Jena Irene returns home to Michigan just in time for her high school prom. She traded her rock n roll attire for an evening gown for the North Farmington High School Prom, Wednesday night at the Dearborn Inn in Michigan. We love working events at this banquet hall. Their staff does an amazing job and their grand ballroom is breathtaking. Since it has high vaulted ceiling we have a variety of options to light up the space.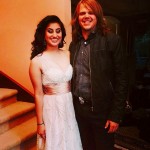 As we saw last season American Idol winner Caleb Johnson promised Jena he would go to her prom after the competition. The Homecoming celebration planned for 'Idol' finalist Jena Irene to be there. The season's winner Caleb Johnson came as her date.
In case you didn't know, two of the top 13 contestants on American Idol are from the metro Detroit area. The competition gave viewers a chance to learn more about Jena's metro-Detroit background. The local press showed up as expected to take photos as students arrived. There had to be at least 5 or 6 different news companies on-site. You can view more of those images here from the Oakland Press.
Caleb said he was looking forward to doing the Wobble and Stanky Leg
The rock n roller finalists arrived fashionably late to first be interviewed before cutting it loose on the dance floor. Caleb said he was looking forward to doing the Wobble and Stanky Leg. Looking back on their prom, those were two songs that we definitely played that night.
Jena and Caleb are good friends, so they were looking forward to dancing at the prom. Jena said it was great being able to have a break from American Idol life. It's nice to be able to just be yourself and have a good time with all your friends.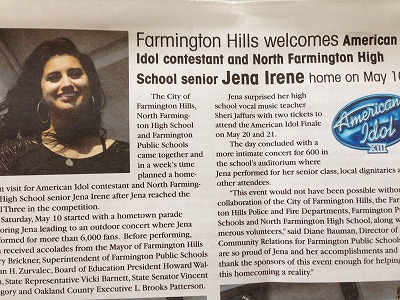 Once they entered the venue, the camera shut off and the press was gone. Honestly, our team didn't even notice that they had arrived. We were so focused on the music and making sure students were having the time of their lives.
We worked with the school's planning committee over the course of a year to figure out what would look best in the room. Besides award winning DJ entertainment EEG did room lighting, city of lights, & crystal chandeliers to transform their space. When you combine all these elements with kickin' sound you get the best of both worlds.
Every year our team has the privilege of helping high school all across Michigan with creating epic proms. You need a company that can work with your theme to deliver the biggest party for the social year.
School dances are just as important to us as they are to you. You only have one chance to do this right. Our company understands that you need a mixture of class and hype to pull off a successful dance. If you need help with organizing your prom celebration contact our planning specialists for a no obligation consultation. We have limited availability, so make sure you contact us today. Make rival schools jealous and plan the epic experience you know your school deserves.
For More Info Check Your Date Here