When your plans fall through or have to plan something last minute, you need the right team for the job. The Belle Isle Grand Prix Detroit Michigan came to Encore to accommodate the large order they needed with only 4 days left before the day of the event. They wanted 500 feet of white wall draping for their VIP Penske tent and Encore was their saving grace. Luckily for the company, Encore is one of the largest draping suppliers in the Midwest and does everything in house there was no middle man to slow down the process. No company would have had enough time to order and prepare that amount of fabric for an event of this scale.
They wanted 500 ft of white draping… it almost didn't happened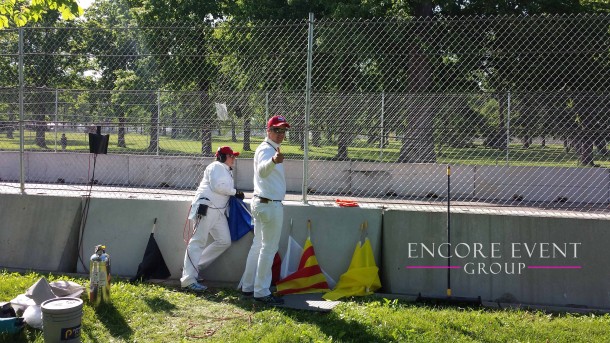 Not only was this order a huge honor for Encore, it was incredibly important to Detroit. Here at Encore, we love Detroit. It was very important for us to make this happen to ensure the event at the Grand Prix was as big of a success that it could be for the benefit of everyone involved. Why does that matter to us? It matters because if the Grand Prix is a big success it benefits the economy of Detroit and any other community connected to the city and the race track. Not to mention that there was more than 750 students from both the Grow Up Great and Fifth Gear programs attended Education Day and at least 1500 people were in the Penske tent at any given time throughout the day. Students were able to use a lot of what they learned in the classroom and watch it unfold in person a real racing environment.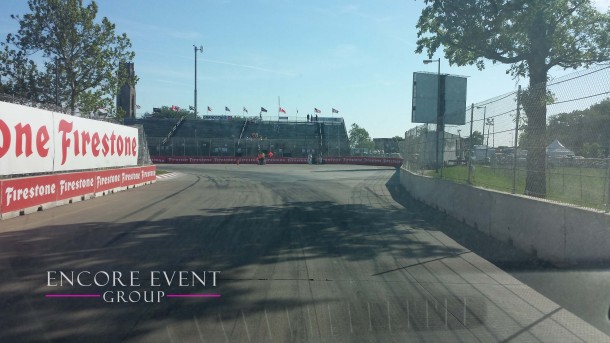 When planning a high profile event such as this, you need to be able to think critically and know how to access your job site. It actually took us about an hour to even get to where we were setting up from the main gates. Fortunately for us, the only way to get to the VIP Penske tent was by driving on the track past the pit crew (picture on right). The tent was huge and it was going to be open to the public as an education center for people to learn and interact with the parts that make up a race car. Ultimately, Encore came through and had all of the drapery finished before the races started.
We even got to drive on the race track
The day after the client contacted us asking about our FR Certification for our white drapes. This is a flame certification detailing that our fabric is flame retardant. Even with that in hand, they had an inspector check with us and find out if our fabric was either chemically treated or inherently fire resistant. If we did not provide these important documents to the inspector the event would have been postponed. This is exactly why we keep all of our certificates on file for situations just like this to prevent any issues from arising by having proper credentials and paperwork.
The Belle Isle Grand Prix received national press coverage and you can actually view the clip with our setup in it right here. The drapery did an amazing job turning a tent into a more comfortable place for bright and inquisitive minds to explore the world of racing. Encore is a company that thrives under stressful situations and even looks forward to the challenge. Even with the extreme time constraints and enormity of the order, Encore Event Group was able to work with the client and give them exactly what they needed.
For More Info Check Your Date Here