.
This is one of the many great reasons we carry
black velour draping
. We are constantly using this fabric for building sites to hide what's happening on the other side. This
drapery
is great because it's thick and heavy, meaning you can't see through it. It also has a very glamorous sheen that blends in with any décor style.
.
Kelly Clarkson performed during grand opening
Microsoft contacted Encore because they had a construction site where they wanted to give the illusion of the store appearing from nowhere. In other words, Microsoft wanted us to help perform a backwards Houdini act by using our black velour drapery to make something appear rather than disappear. A final date for the grand opening had yet been determined and they needed flexibility from our staff to ensure they had the time they needed. We worked with their planning team over the phone to figure out what would be the best amount of fabric to do what they needed.
We were working after hours at Sommerset and had to have security clearance to even access the site. When we arrived that night we made sure not bother the construction crew because they were painting the walls and hanging up the Microsoft insignia. One of our biggest concerns was the beautiful custom made glass doors at the front of the store. We took every precaution to ensure nothing happened to them such as bringing out extra heavy base plates to lower the center of gravity of the drapery skeleton. If anything happened to those specially made pieces, it would have definitely set our clients launch date back weeks.
Microsoft CEO Steve Ballmer cut the ribbon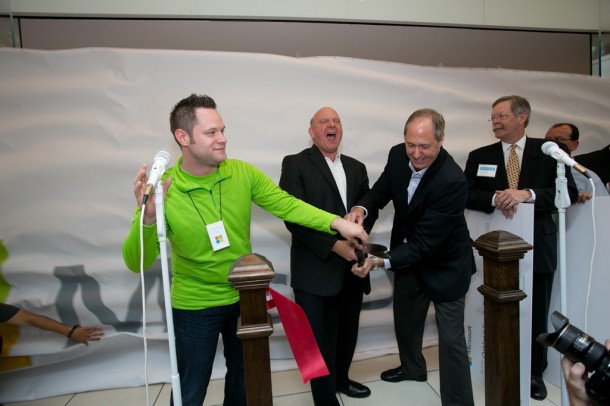 Microsoft CEO, Michigan Native, and Birmingham Detroit County Day Graduate, Steve Ballmer made an appearance for the ribbon cutting of the new store at 10:30am. Microsoft is also known for its rock star staging. So if the CEO himself wasn't enough, singer Kelly Clarkson made a live performance right in the mall parking lot at 5pm that afternoon. She performed right in the Somerset mall parking lot where Microsoft even handed out free tickets to the first 1,350 people in line. Whether it was intentional or not, the new store is directly above an apple store in the same location. I think there might be some tough competition between the 2 software giants. Microsoft also mentioned this is just one of about 500 small stores in the U.S. and another 100 in Canada.
You can read more about the stores opening on Microsofts Blog. Encore looks forward to being a part of any other reveals by companies such as Microsoft to help build up the suspense and excitement of new product and location launches.
For More Info Check Your Date Here
The Troy Summerset Mall is known for its high quality brands and merchandise for its shoppers. We're sure you've been there before, even if it was just to walk around the expansive space to shop or browse the stores. Occasionally, a business moves or closes down and that spot becomes available. Due to the high traffic of shoppers, stores want their business opened up as quickly as possible while keeping construction relatively secretive. So how do you keep guests interested about the new store without giving away the magic inside?