On this particular evening we were at the beautiful Club Venetian in Sterling Heights. We were privileged to work with other hard working and reputable vendors for this event. This venue has neutral colored walls; this means that our MI uplighting saturated the walls and created a beautiful backdrop. Encore Event Group brought many eye catching fixtures out for the evening that captivated the entire space with a dynamic and unique look.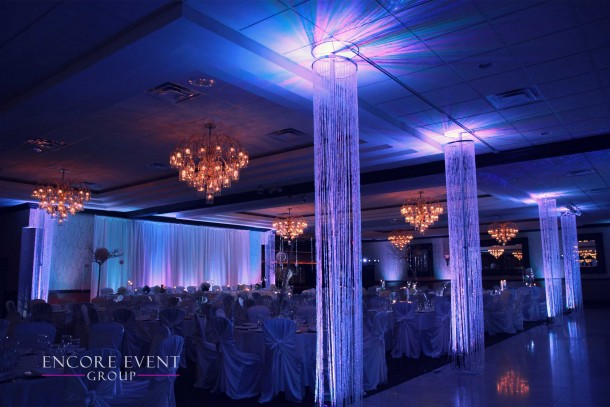 Typically when crystal chandeliers are used, we position them at the four corners of the dance floor. The dance floor at Club Venetian is very long, with that in mind; we placed the chandeliers in a row at the edge to create a very different and elegant vibe. These chandeliers can also be lit up with your wedding colors to match your theme or your preferred color.
.
we placed the chandeliers in a row at the edge to create a very different and elegant vibe
We also brought out our beautiful event trees that bring the outside in. Encore's trees actually made from birch and sand blasted manzanita. These are great for a more natural rustic look and can be easily colored with LED lighting because of their neutral color. There are also many beautiful ways to accessorize your trees, besides colored lighting, we can hang pomanders or even crystals that sparkle when the light hits them.
Speaking of a beautiful outdoorsy vibe, we were lucky to be working with Kevin of Twigs and Branches Floral. He was able to work with us and coordinate the design of the centerpieces with the décor to tie the theme of the night together. He even used manzanita in the centerpieces to match the look of our trees to tighten the tie of the theme and really drive it home.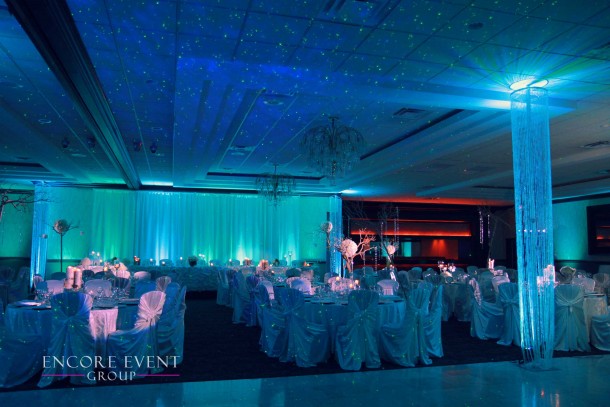 Keeping with the natural look of the evening, we used a constellation effect which is stunning when working with the color blue. These fixtures project a stunning galactic scene that puts your room under the stars. An interesting idea to keep in mind with the starry ceiling is that you don't have to leave the fixture on; you could save it for a specific event during the night and take your guests completely by surprise. During this particular event we combined the starry ceiling with our dancing on a cloud. The cloud absorbs the color of the lights and looks incredible in your pictures. With both of these enhancements working in tandem, your first dance looks as if its miles above; as if you are dancing among the stars. This creates an unforgettable memory that is simply breathtaking and is unlike anything else you've seen before.
None of this would have been possible without Kay and his team at Capturing Arts. They were able to capture the moment, no pun intended. Capturing Arts did an amazing job telling a story with their pictures of the night. Anyone can take a photo, but it takes real talent to make the image speak to you. Their specialty is telling your story in a natural setting. We love working wedding receptions at this venue and recommending Kay and Capturing Arts to our clients that need help with cinematography.
For More Info Check Your Date Here