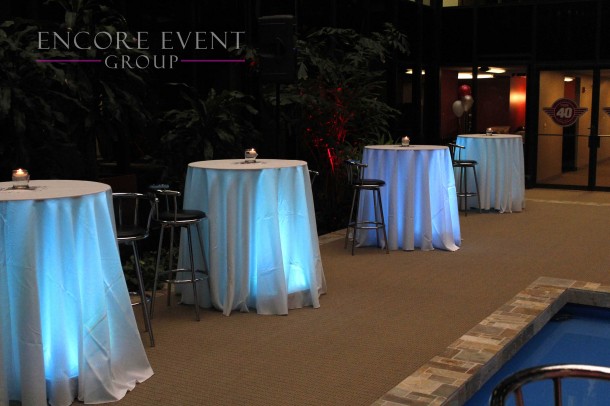 Mars Advertising was having their 40th anniversary and hired Encore Event Group to provide décor and entertainment. They decided to host a corporate party at the company's headquarters inside the atrium. Color was added to their cocktail tables, fixtures to light up trees, and a red photo booth along with DJ entertainment. Corporate Michigan events are very important because it builds relations between employees and can be the selling point with new clients.
Encore was able to provide entertainment for the guests throughout the party with tastefully colored décor and photo booth with a customized strip specially made for the business. The customized strip was a simplistic design that reflected Mars' marketing background. It also had the logo they had designed specifically for their 40th anniversary. Our services that night were timed with all of the employee's schedules in mind to ensure that they could enjoy most of the event. In order to do so, we worked with Beth Wright, Sarah Lunetta, and Carlos Parisi to come up with a time frame that was suitable for everyone to enjoy. We managed to make sure that the booth was open at the crossover of the different shifts and at break times.
Not only is the red the business's color, it also provided a warm inviting environment for all of the staff to mingle in. For Michigan cocktail table lighting, Encore provided 12 wireless battery powered lights to add life to the tables without causing a trip hazard and made them resonate with color. For the trees in the atrium, we used our Remote Controlled uplights which provided a narrower beam to light up the tree without causing a spillover and keeping it out of people's eyes. We used these lights because they are more concentrated and helped us get the most amount of color in the atrium.
We celebrated in their company atrium
We highly recommend using light colored fabric when lighting tables to ensure the most color saturation. Also, keep in the mind the taller the tables are the better. This helps to illuminate them to their full potential. With traditional room up lighting, we have to have control of the interior light to give you the best look for your space. However, with cocktail table lighting it is not an issue. The fabric will light up regardless of how bright the exterior lighting is. This means that you can have cocktail tables next to windows and not have to worry about the light not showing up.
For the DJ entertainment, our client chose a music style that fit a chill vibe. We can accommodate a variety of styles. No two parties are ever the same and we are always encourage our clients to give us their input. They were also able to use our equipment to make announcements to engage the guests with their company message for 2015.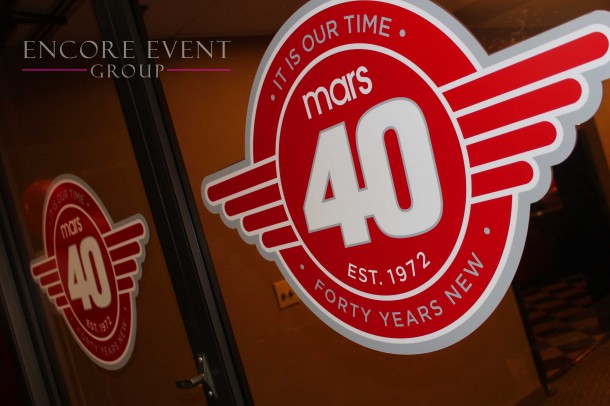 Mars Advertising's theme for their 40th anniversary was "it's our time." "40 years new." With our lighting, it helped showcase that even though Mars has been doing this for 40 years, they are still growing and keeping current with the way the marketing world works. We used independent standing gobo lighting fixtures to project their logo into the hallway leading into the atrium for employees to see on their way in. Everything was branded to fit with the company's image.
For More Info Check Your Date Here