Custom Name Monogram Design Tips
There are tons of ways to design your custom name monogram. Custom monograms can be used in several different ways. For example, they can be used to project your name or company logo. It is also very important to keep in mind the size and layout of the design with the space it's being used in. Keep reading this article for tips on how to create your perfect monogram.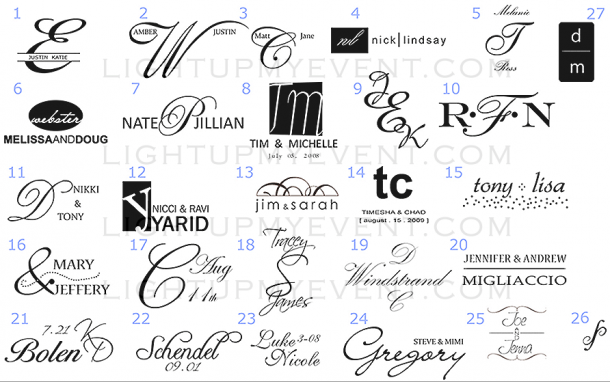 When deciding on what kind of design and layout to use for your monogram, imagine where you would like it to be displayed. Think about your space and what would look better or is more appealing to you, a horizontal or vertical design? We can also use the same design as your invites or logo if you want to create a theme. Using our samples, you can select different layouts and over 2000 text styles. If you want something completely unique, we can work with you one on one to get it exactly right. Once your design is finished, we will send you a proof for your approval. This is the best time to make any spelling, font, and layout adjustments. If you happen to be a photoshop pro, then we can e-mail you our template and you can create your very own design.
Your personalized logo is a great way to convey a message, name, or company theme.
We suggest placing your custom name monogram on a flat surface such as a wall or dance floor. Drapery, foliage, and uneven surface should be avoided. Your text or logo may not be legible if placed on something other than a wall or flat area. Our fixtures also have an adjustable height, zoom, and focus. The adjustable height prevents guests from casting shadows on your design when it's facing a wall. The zoom and focus gives you the ability to make the monogram bigger and smaller depending on what it's being projected on to or your personal preference. We can also use a variety of colors for your monogram, but we recommend white because it is the brightest and most distinctive color which ensures it will be highly visible.
If you have a theme or style for you event, we can also design your photo booth strip with the same name or logo as your monogram to create a brand for you. To learn more about how you can create a custom photo booth strip to compliment your name monogram click here.
When it comes to corporate events, we recommend using your will there be a cure for herpes in the future company's logo without your slogan. Too much text can make your monogram look cluttered and not as appealing. Keep it short and it will drive the message home with a short and elegant style. We hope these name monogram tips haven been helpful. Each design is made to fit your event. Encore guarantees that it will be an attention grabber and will be a nice addition to your event or party.
Ready to Design Your Monogram Check Your Date Here