Design Your Photo Booth Footer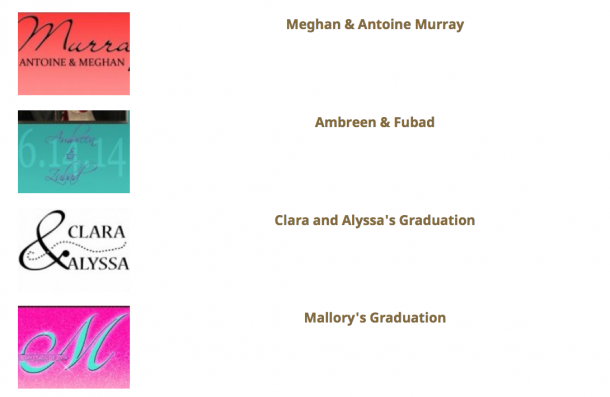 By using this footer design page you have full control of what your photo booth strips will look like. Whether it be black & white, red, green, or out of control (but still under your control of course). You can look through our photo gallery to find some inspiration or use your own creativity to make a unique work of art. If you're still having a hard time… just ask us! We would love to personally work on the design with you to make sure you get exactly what you want. We make it our mission to spend as much time as needed to design your footer.
Choose Your Layout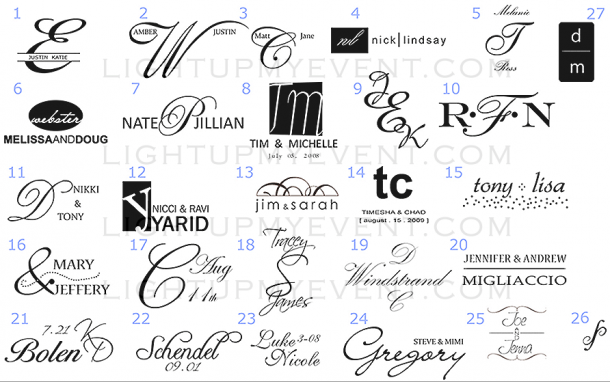 Have a certain style or flair you'd like for the text? You can choose anything of our samples on the right. How about some old school cursive type? Or maybe some more modern style like graffiti lettering? If you have any great ideas that pop in to your head we can always make some last minute changes! Send us an e-mail and we will figure out the best way to incorporate it.
Select Your Colors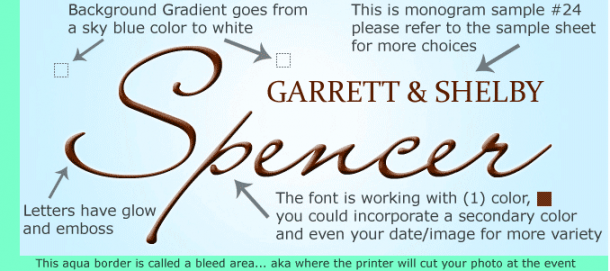 Your photo booth strip background and text color can also be fully customized using our color chart. The background is everything showing behind your text. You can use one color or have a gradient (a blend of 2 colors). We always recommend 2 colors to add depth to your design. It is best to stick with 1 or 2 colors max. We want to make sure your photo booth strip looks great with complimentary colors. That being said we may have to tweak the colors a little bit to ensure the font is clear. When the time comes to sport your design, rest assured that you will love your finished design.
So Now Your Design is Done
Sometimes we nail it on the first couple tries and we've created a piece that both of us are happy with. Sometimes we will spend many hours tweaking everything about the strip until its perfect. We are happy to work with you first hand on the design through emails and phone calls to fine tune your design. To ensure that your date, name, etc. is correct we have several team members look over it before it's finished. When we are finished with your layout, we send it to you for your approval way before your event date. It's ok to tell us you want to change something. We like the challenge!
At Your Event
While at your event, our photo booth specialist will make sure that your photos print off perfect every time. They will check the background of each image and personally take care of you and your guests. We will also assist with any scrapbooking while at your event or we can set aside pictures for you.
End of Your Night
You will receive a digital copy of every photo taken over the night on a personalized Encore USB Flash Drive. On top of that, your pictures will be uploaded to an online gallery for all of your friends and family to enjoy. Just a side note, what happens behind the curtain, stays behind the curtain : )
Want an awesome design? Check Your Date Here