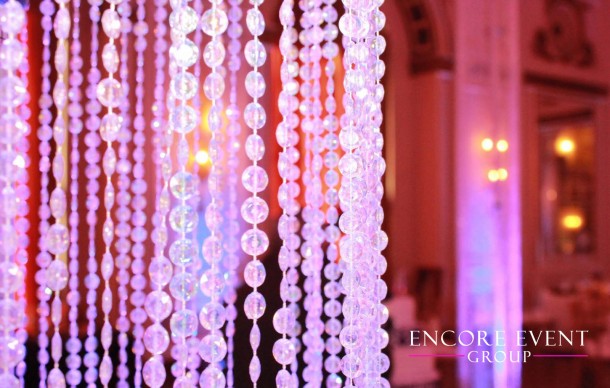 If you are looking for a place that makes you feel like royalty, the Colony Club in Detroit is for you. This venue offers a simple, yet elegant atmosphere with beautiful architecture. We were excited to be chosen by Mr. and Mrs. Alindada for their reception. The clients hired Encore Event Group to help them with room lighting and a reception DJ. We offer TONs of options which help our clients by reducing how many stops they have make to ensure that their wedding is perfect.
We didn't just light up their room… we transformed it! Our bright LED uplights allow you to choose from any color. You might also consider our City Of Lights package. This is probably considered our favorite option, because it turns your entire room into a giant dance floor. Color changing lights and movement generated from the City Of Lights, changes your entire atmosphere. Our light matched the same purple and white that was used in their linens, center pieces and floral arrangements. Whether it's to highlight your grand entrance, spotlight a slow song, or give fast paced movement during dancing, it's going to look awesome.
The dance floor was packed and it stayed that way. Mr. and Mrs. Alindada decided to add on our Kickin' Sound option to amp up the energy. This gives a loud but pleasant sound to your room. This place has some of the best acoustics we've heard. I definitely recommend our upgraded sub and tall speaker package @ The Colony Club. Combine all of this with modern music, a stellar DJ, and Detroit wedding uplighting, and you've got yourself a night you'll never forget. We put night clubs to shame that night.
We enhanced the room with gorgeous crystal chandeliers which made the room even more regal. The crystals sparkle no matter which way you looked at them and were seamless with the feel of the room. They also soak up the color of the room to make beautiful pictures for your photographer. Another great addition was our Dancing on a Cloud option. We created a low lying fog for Joel & Mildred's first dance which turned out amazing in their wedding pictures and video.
Clients are always giving us compliments about our lighting. When packaged together with our DJ entertainment, the cost comes down. We personally invite every client to our studio to go over exactly what they want and so they can see it before they get it. You deserve amazing options with online planning. Organize your details from the convenience of your personal computer. We also go over these details with you the week of that we're both on the same page. We treat every single event as if it were our own. Encore goes out of its way to make the wedding planning process as stress free as possible and simply be your friend. By the end of the night, we're not just the lighting people, the DJ, or the photo booth specialists, we become part of the family.
For More Info Check Your Date Here