Let's face it, what does the Motor City love more than anything else? Cars. Encore was also born in Detroit and we need wheels to do what we do. We had an opportunity to be a part of a vehicle unveiling with drapery lighting in Farmington Hills Michigan It was none other than Porsche the sports car legend. They revealed a new model in their long and extensive history of vehicles.
Having an event for the launch of a new vehicle is important because it opens the field for the media to get coverage on the company's new model and what makes it special. Some of these new vehicle launch events will even take pre-orders for specialized vehicles before production for the masses has begun. Another important detail from the corporations perspective is that the attention your event gets can help give you a better analysis on the potential sales of the new vehicle. In this case, Porsche was revealing their first plug in hybrid dubbed the "PanameraS E-Hybrid Plug-in."
Porsche revealed their first plug in hybrid
A lot goes into planning an unveiling. We recommend working in your showroom because it is the best place to bring your customers and connect with what they are looking for in a car. Generally in the showroom, you have sales representatives on site to help them with answering their questions along with informing them with different options and specs of each vehicle. Your top level management can give speeches relevant to them in the same area while referencing to the vehicle about to be revealed on the spot.
Boasting an impressive 416 horsepower with 95 of that from an electric motor, our job at Encore was to help make the launch even more impressive and awe-inspiring. Using services such as uplighting and draping adds to the hype and excitement of a launch to make it feel more exclusive to those in attendance. Lighting showcases the space and holds your attention to the details of the room while draping creates a beautiful background to transform your showroom.
Encore owners Rob & Nicci strut their stuff on the step & repeat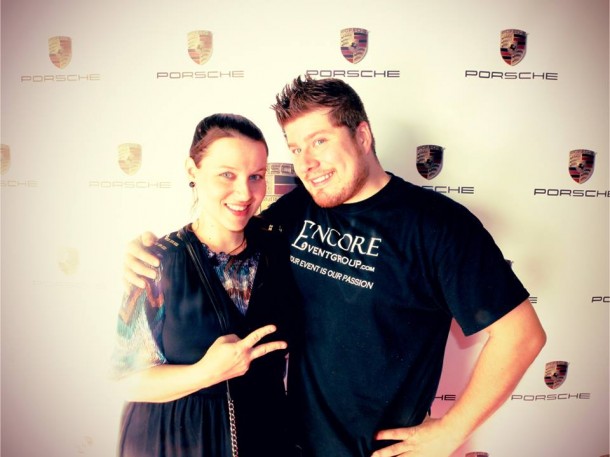 For the vehicle launch we used our room lighting to go along with the Farmington Hills MI Porsche signature color of red and it is also the color that the public associates mostly with the car maker. Our client also had us bring out pipe and draping to create a beautiful backdrop behind the vehicle that looked amazing and elegant in photos. There was also a "step and repeat" along with a red carpet to give glamorous Hollywood feel for customers. The backdrop for the step and repeat had the company logo on it as well and it made a background that made you look and feel like a rockstar. This was a great take away that helped to reinforce their eco-friendly car.
Ultimately, the event was a huge success. The unveiling of the stylish, powerful, yet environmentally friendly car went over great with customers. The client was more than happy with the services Encore provided with our red light fixtures and beautiful drapery. Once again, it was a huge honor to have been able to work a sports car legend with a history on and off the race track such as Porsche on the launch of a new eco-friendly model.
For More Info Check Your Date Here