Garden Theater in Detroit Michigan is a historical venue in Detroit that was built back in 1912. The property sat vacant for years and just recently reopened after an extensive renovation in 2013. This place is perfect for hosting your upcoming event. The space features iconic Detroit style architecture with exposed brick & polished metal railings. If you are looking for an industrial chic vibe then this is the place for you!
looking for an industrial chic vibe then this is the place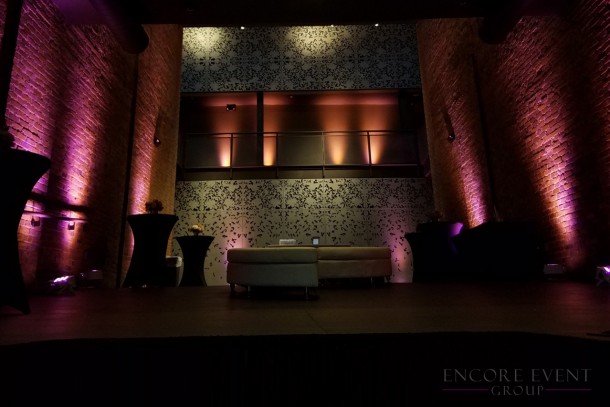 When you first walk into the building you will enter the main foyer waiting area. This space is commonly used for cocktails and appetizers as a pre-function space. If you need a place for your guest to go before the events beginnings this is where it happens. It is large enough to accommodate 200 people comfortably. This space can have either high-top cocktail tables or lounge furniture to break up the space.
Garden Theater is Muli-Layout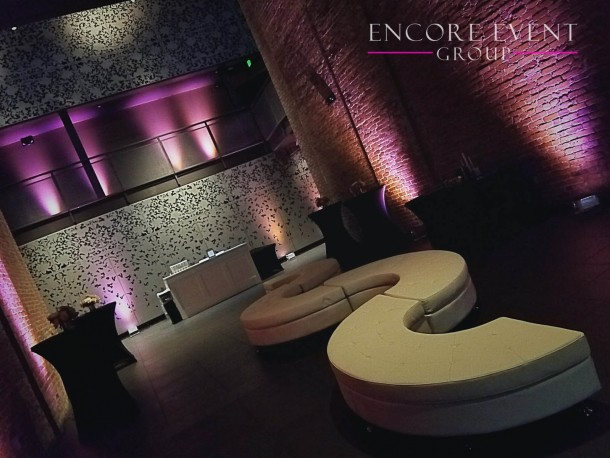 Now to get to the meat of this post is how do you approach Detroit Wedding uplights with this venue? The main concern is the flow of guests, and usability of rooms. Depending on your itinerary you might want to focus uplighting in the upper balcony. We have even seen bands perform up there during the first hour. There are a couple of rooms on the wall behind this space. If that area is going to be utilized, then we recommend using 5-8 uplights in those areas. When you confirm details with your venue, they should provide a layout.
This is always where all the action takes place
Since this space will only be used for an hour, guests will then move into the next portion of the evening. The main dining area is the theater. This is always where all the action takes place. By the entrance is a long beautiful bar with a stage opposite in the room. Might I add that the bar has antique lighting installed in a mordern way. Gives a fun twist to the actual age of the building. There is stadium style levels for round and rectangular seating. Usually we will see the dance placed center right infront of the stage.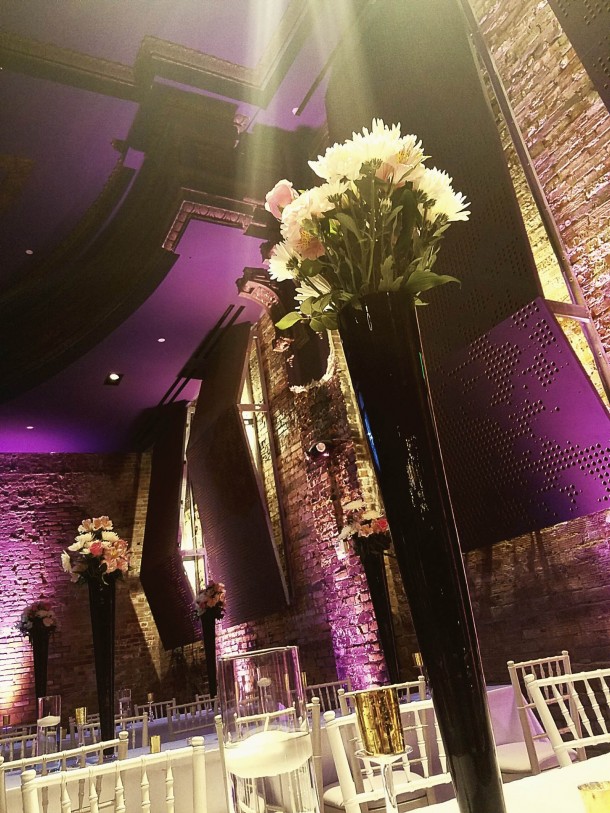 The exposed brick looks marvelous with uplighting enhancing it's texture. Since the brick is a dark color we recommend the red darker tones to highlight the space. Pastels, and fuchsia's will also compliment the venue. The main concern with your color pallet is to make sure the theme of your event fits with the colors of the space and there is no conflict. In the main room we used 20 LEDs strategically placed against the walls, stairs, and back part of the stage. A few things to keep in mind is giving guests enough space to walk, knowing where the power is located, and keeping the room symmetrical.
How Will You Light Up Your Garden Theater Wedding?
In total we recommend anywhere from 30-60 LEDs for this venue. It's an nontraditional space that has anywhere from 4-6 spaces to lightup. Depending on your usage of your venue will determine how many lighting fixtures you will need. Our goal is to never over or underquote you with a package. Please contact our staff at the link below to get an exact quote for your upcoming party, event, reception, or wedding.
Get Your Detroit Uplight Check Your Date Here