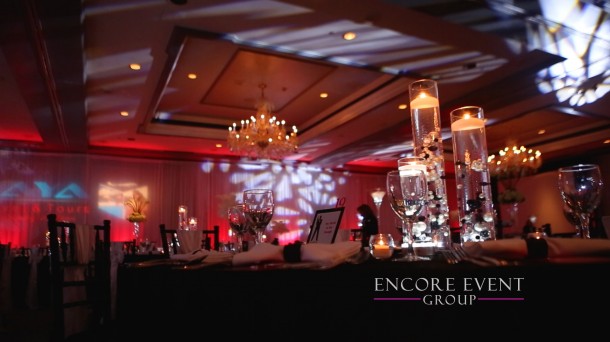 Are you in charge of planning a large corporate party for your next employee bash? Possibly celebrating an anniversary of years in business? These types of events are generally arranged in large banquet halls to accommodate the number of guests expected to be in attendance. If your company doesn't have a personal event planner, you will hire a corporate planner to ensure that everything is taken care of. You also want to make sure that your party or events theme matches your company's message and identity.
We did lighting in 3 different rooms
Large companies such as Jaya Travel, plan these types of events so that employees from all divisions and offices have the chance to get together on a level plane. This is the perfect reason to have an event such as this if you have employees from all over the world. These events are also a great way to share how much the company has progressed in the last year as well as the next big step in the direction the corporation is taking. It is also a great way to get all employees talking about the next quarter and how they play a part in it.
A lot of planning goes into these types of events; you need video projectors, screens, cameras, lighting, elegant décor such as chiavari chairs and drapery. Encore was honored to be a part of a fundraiser & casino event being hosted Jaya Travel at The Henry in Dearborn, MI. Encore provided lighting in 3 different rooms which included 15 red LEDs in the foyer, 20 red LEDs in the casino room, and 35 computerized lights in the main ballroom. Along with the room uplighting, our city of lights package was brought out. Our city of lights consists of 4 intelligent moving head fixtures for the dance and lighting patterns along 2 additional moving head fixtures to showcase brand new 2015 Aston Martin. On top of that, you need entertainment, this case, Jaya Travel brought in a casino, DJ entertainment, and a photo booth. Even more special was that corporate executives gave out speeches to their employees while comedians later gave everyone a good laugh.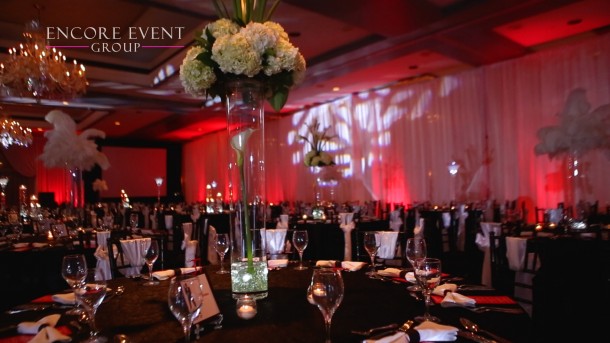 When it comes to fundraising, Encore does everything it can to ensure that it is a big success. We made sure that our LED lighting matched the color of the event in the foyer and the casino areas. Because we used a dark and rich color such as red, we required more fixtures to fully saturate the area with color evenly. This event had two purposes, it was planned to help recharge the morale of its employees and help raise funds for a local foundation. During the cocktail hour, they held a silent auction for the Aston Martin. While the auction was taking place, Encore showcased the vehicle with 2 moving heads from different angles so that the focus of the event never left the car. We focused a spotlight on the people speaking during speeches and on the comedian, who also had a live video feed of him shown onto two large projector screens.
We used 2 moving head fixtures to showcase a brand new 2015 Aston Martin
At the end of the day, the event was a huge hit. We did however have to make some quick last minute adjustments to our lighting to accommodate special situations. For example, the comedian needed more lighting on him during his performance so we reprogrammed a light scene on the spot during his performance without the guests noticing to make sure our client was happy. The entertainment combined with everything else in the rooms created a fun and inviting vibe, the lights moved and changed with the music and the casino gave the guests a place to explore and play a few games.
For More Info Check Your Date Here