Michigan Ceiling Wall Drapery
Have you thought about transforming your space? Drapery aka (Pipe & drape) creates a beautiful backdrop in your photos. Maybe you'd like to divide a room with an elegant partition? Perhaps you would like to create a lounge area for your guests to relax in. Drapery is also used when it is hard to incorporate lighting due to a lot of brick or dark colored walls. Lighting doesn't properly soak into these types of walls and color, hence why we recommend white wall draping. This is the best way to paint your walls with color. All of our pipe and drape rental equipment is flame retardant made from a beautiful poly silk that pleats nicely. Our fabric is thick and heavy, this way you can't see through it. Here are a few examples of the styles of draping we specialize in.
We can do anything with drapery and the only limitation is your creativity…
Straight Wall Drapery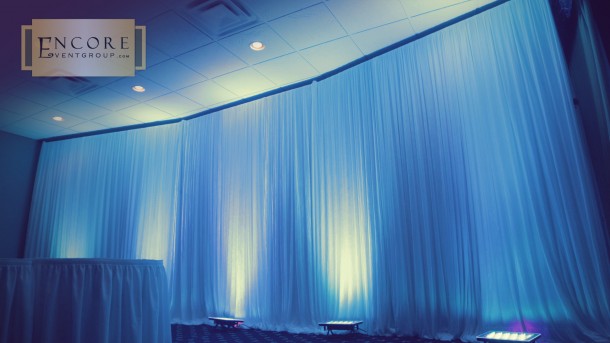 Straight drapery is the most common way to cover walls in your space. Wall drapery can be used for a number of reasons. If you are looking to hide certain walls or cover windows, this is the perfect option for you. Most clients use our white poly silk in combination with uplighting. The drapery really soaks up the color of the lights and is great for transforming a room to the point where guests won't even recognize it anymore. With this kind of drapery, you can create backdrops for stage performances, photo shoots, or even a VIP tent at the race track. A lot of people request wall draping or "tent liners" for canopy draping. These tent liners are custom sewn to your tent and we recommend going through your tent rental company. Keep reading for more pictures of what you can do with drapery.
Single, Double, & Custom Drapery
The single and double valance style is great for adding a little more flair to specific places at your event. You can use for creating a beautiful backdrop for your ceremony, head tables, or public speakers. The valance styles use extra fabric to add swags to our straight wall drapery and give it an eye grabbing elegant look. We can talk about it all we want but the proof is in the pictures. This is a peek into what we can do with single and double valance drapery. You can even get creative and work custom colors and beads into your backdrop.
Ceiling Drapery
Maybe you were thinking of breaking the perception of typical drapery? This is a popular style at events and can be used to cover up fixtures on the ceiling. There is a variety of ways to make this addition. Star drapery is a great example. This style starts at a center point with longs swags of fabric that attach around the room. Another beautiful look is horizontal drapery. This style is can be hung up and over ceiling rafters, suspended by cables, or draped over our bistro lighting.
A lot will depend on the ceiling height, type, and how much setup time allowed. For example, If your space has a 2 story ceiling we may need access to a scissor lift to secure the fabric. What we mean by type of ceiling is what it's made of or how it's designed. Is there somewhere we can attach the drapery too? If not, will the venue allow us to install the equipment needed to hang the fabric? Will Encore be able to access the space the day prior to your event?
There are a lot of factors to keep in mind when reserving your ceiling draping
Some ceiling drapery can take as little as 2 hours or as long as 2 days to setup. If we do have early access you will have to schedule your other vendors to setup after we are finished with our setup. Why do you ask? If we are required to use a ladder or scissor lift to hang the fabric we need to be able to use all of the floor space below where the drapery is hanging. This means we can't be standing on tables or attempting to work around other vendors while doing our setup. It's also more safe for those involved if people aren't walking around our ladders.
Ready to Get Your Drapery? Check Your Date Here