Michigan projector screen rentals are available through EEG for your next upcoming event. Corporate events can use projector screens and so can wedding receptions. The design pictured above is a portable 8 foot x 8 foot design. This can come with cabling, projector, and MacBook media device. So what are some of the benefits of having a projector rental at your upcoming event?
WHEN TO USE A PROJECTOR SCREEN
Having a visible projected surface is almost mandatory for meeting spaces. Company events need to display their message to employees, vendors, and potential clients. Besides having a screen used at a company gathering, Michigan weddings can benefit from projector screens as well.
A common trend for receptions is to have a slideshow presentation during the meal
. This can signify the childhood of the guests of honor and their shared memories together. So what is the best size for a projector setup?
.
If you are expecting more than 300 guests, then that is when we recommend dual screen projection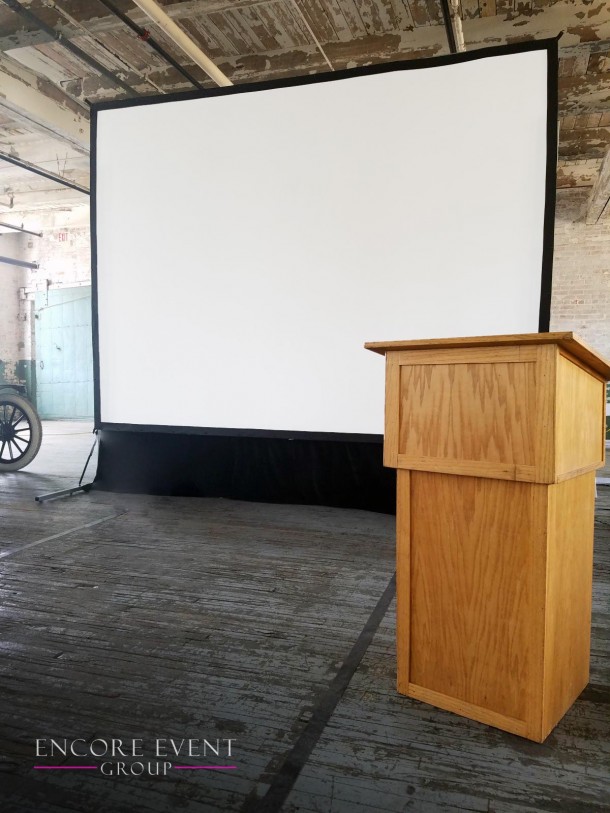 SCREEN SIZES
The main image used at the top portion of this page shows our popular dual 9×12 rear projection surfaces with black velour draping kit. These are great for large rooms where you need to make sure your screen is visible from every seat. If you a planning a wedding with less than 300 people then you can get away with our 8×8 front projection surface. The usefulness of the smaller screen comes with the adjustments. For example,
you can easily setup and tear down this screen within seconds
for quick re-purposing of the space. If you are expecting more than 300 guests, then that is when we recommend dual screen projection.
.
CABLES & SETUP
The main concerns with your rental is the proper setup for the correct display. This means having the prime location for the display, projector, and cabling. Our team keeps in mind the location of the projector so that shadows do not get in the view of the screen during usage. All cables should be taped down and cable length needs to be considered when using long runs of data cord.
This can have an effect on the transmission and might require a booster
to amplify the signal so that it does not degrade as it is traveling from the data source to the projector.
FINAL CONSIDERATIONS
Projector rentals are a common thing used for events. You want to make sure the company you choose understands the dynamics of how your setup, spacing, & cable runs can affect the outcome. Encore Event Group specializes in a stress free experience for clients that rent our projector setups. Depending on your needs we have multiple solutions available for weekend rates. If you would like to discuss the options with our qualified staff, then get the conversation started by checking your date below.
Reserve your Projector Rental Check Your Date Here