Tradeshow and conferences are the perfect place for your business to connect with consumers. Most people attend public expos to get more information on exactly what you offer. For your company perception is everything. This is why it is important to attack the senses with focusing on the media and layout for your booths design. It takes more than just a brilliant popup display to get results. Continue reading to maximize the return on your next show.
It takes more than just a brilliant popup display to get results.
Expo Trussing
If you are planning an expo, then chances are you have done this more than once. You have probably ran into situations when you need a place to put something but ran out of space. Trussing maximizes the efficiency of your booth by giving you options. Most clients use this for hanging TVs, hiding cords, and mounting shelves. Trusses give a professional and aesthetically pleasing look to patrons. It shows you care about your image and the success of your brand.
Truss Mounted TV Displays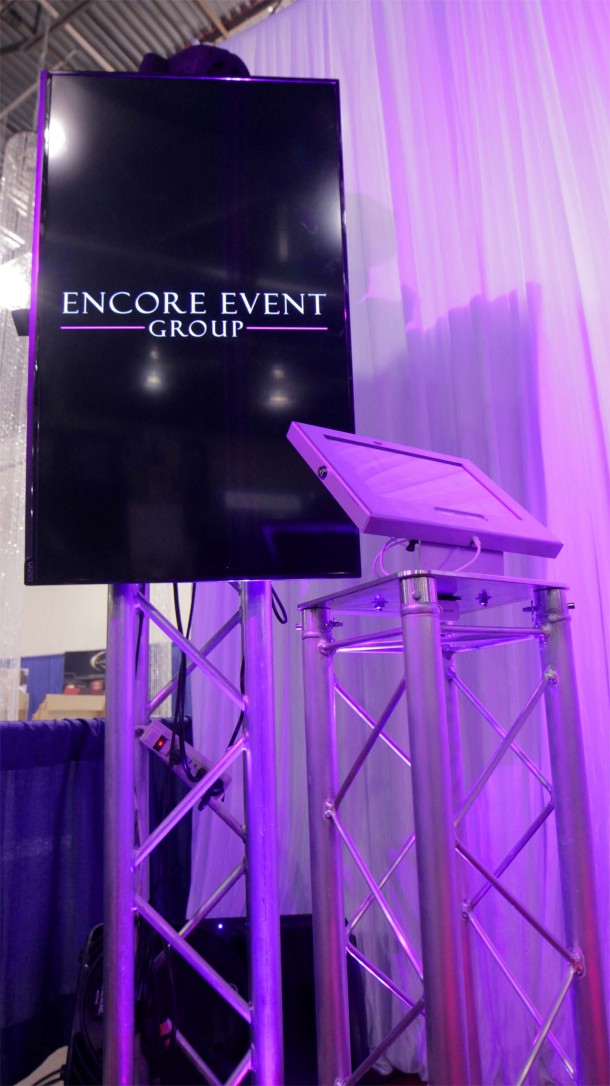 Conferences are meant for one reason, to convey your message. What better medium than to use truss mounted TVs. Our large 42″ displays grab the attention from guests as they are exploring the tradeshow. You can use TV displays to show your company logo, play videos, and run photo slideshows. If you have multiple services, then we recommend multiple TVs. Mount them either normally or horizontally (shown on left).
The more eye candy (aka expo equipment rental) the better.
Draping & Carpet Installation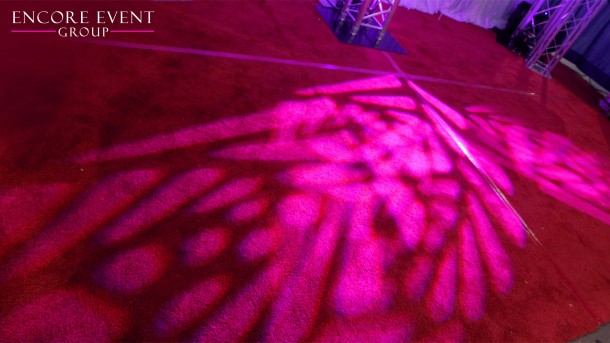 Most tradeshows will use a traditional blue or white fabric for their backdrop. Your company is unlike any other at the show, shouldn't yours stand out? You can make it memorable with custom fabric solutions. Two other benefits is they will help to hide cables/misc equipment, and they will also give a comfortable feel. Our goal is to improve the visual appeal of your booth. Red carpet can grab the attention while a drapery backdrop can match the theme of your booth. Use them both together for a visual double whammy.
Lighting for your Space
Going back to visual, lighting gives the biggest bang for your buck. You can create a logo monogram and display it on a large wall across the room. We've seen clients spotlight their backdrops to really make them pop. The best way to use led uplighting is by having them match the color of your booth. Trussing is the most convenient place to mount lighting fixtures. Tie together your entire theme with a variety of lighting solutions.
Trussing is the most convenient place to mount lighting fixtures
Sound Reinforcement
The last sense we what to talk about is hearing. We always recommend being respectful for other vendors around you. However, you still need to make your display stand out among the rest. Audio can take your booth to the next level with music and announcements. Create custom voice overs, commercials with limited time offers, or play music to set the mood. Regardless of what you choose it will put you steps above your competitors. Chances are you will be one of the only booths with sound.
Kiosk Tablet Stations & Wi-Fi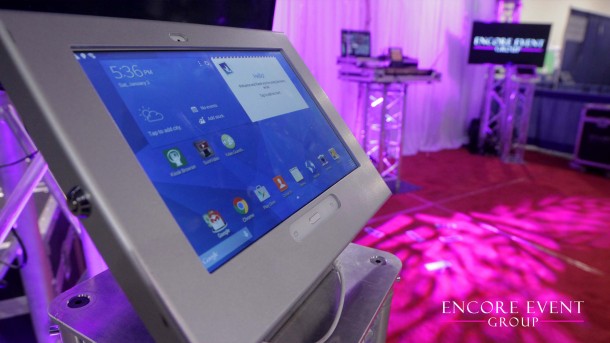 Now that we have some of the basics covered it time to move onto the most important aspect, lead capturing. Kiosks and tablets are perfect for giving your guests an interactive way to learn about your brand. First, you will need a Wi-Fi connection to access the internet. All our kioks have tamper proof systems and tamper proof apps. This means you can have one kiosk station locked onto your website and other kioks locked onto a loop of your most popular videos. Give attendants handheld iPads and have them save info directly into your website form or email newsletter. With Encore kiosks and iPad solutions it's simple to get the most out of your investment.
Photo Booth Rental
Top of mind awareness is important for after your show. Create a buzz with one of Encore's photo booth rentals. You will get a professional attendant that will assist your guests with using the booth. We have accommodated clients by wearing their company t-shirts, branding their footer design, and lighting up the booth to match your colors. Upload the images online afterwards to your company Facebook page for guests to share. The possibilities are endless.
We've accommodated clients by wearing their company t-shirts
How Will Your Booth Turn Out
As you can tell it takes more than just a fold up display to tell your story. We have a lot of great ideas on ways to make your booth attractive and more profitable with Michigan tradeshow rentals. Whether it is attacking their senses or helping you generate leads, we understand what you need. So the next time you are planning your corporate tradeshow, keep the above points in mind to make it a slamdunk.
For More Info Check Your Date Here