Why Michigan Uplighting Services?
Ask yourself a quick question. Why lighting? Lighting creates a beautiful backdrop in your photos and videos and can be customized to your liking. When it comes to planning events; most clients overlook lighting. It is a cost effective way to completely transform your space and is not limited to a specific color or style. There are several options available to you for lighting up your event the way you want. Keep reading this article so that we can help you decide on what style suits you.
If you're looking for the ultimate "Wow!" factor, the right lighting can make all the difference.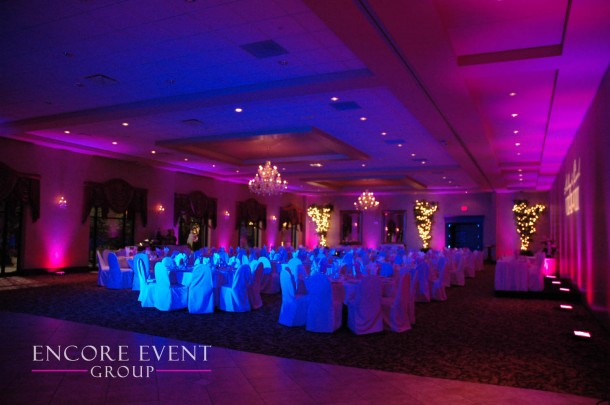 Encore's LEDs are computerized, this means we can create a dynamic atmosphere. You can have the lights change color and play along with the music. Perhaps you have certain colors your party is going with? We can match our lights to your events color scheme and fill the room with color. At Encore, we don't use gels because LEDs offer over 16,500,000 colors and don't pop circuit breakers. Not only that, LEDs are safer because they generate almost no heat at all. You can use our Michigan uplighting serices just about anywhere! For example, cocktail tables with a neutral colored cloth can be lit up or around the perimeter of a room to paint the walls with your choice of color.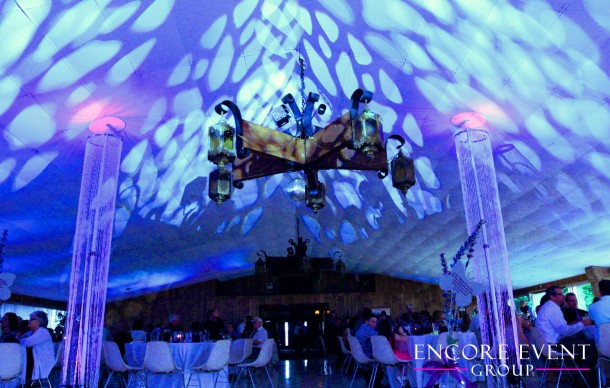 Looking to add an awe-inspiring touch of ambiance? Check out our City of Lights package for a completely different lighting perspective. These intelligent computerized moving heads can be used to spotlight places in your space that you want guest's attention brought to. Such as, your grand entrance at your wedding, spotlighting a speaker, or even being used to accentuate static décor. These same lights can then be programmed with nearly limitless scenes to your liking. They can be used to wash the ceiling of a room with color or various patterns.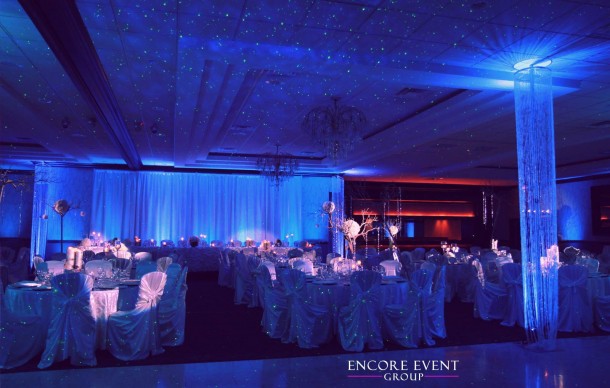 Maybe you'd like a starry night or Hollywood feel? We can project star patterns on the ceiling, walls, or even a dance floor. Another example is that we can create an underwater scheme with a water and smoke effect that looks like real smoke is blanketing the ceiling. The City of Lights is most commonly used for adding an energetic and dynamic vibe to your dance floor. These lights also change color and move along to the music to create a truly unique experience that turns your whole space into a dance floor.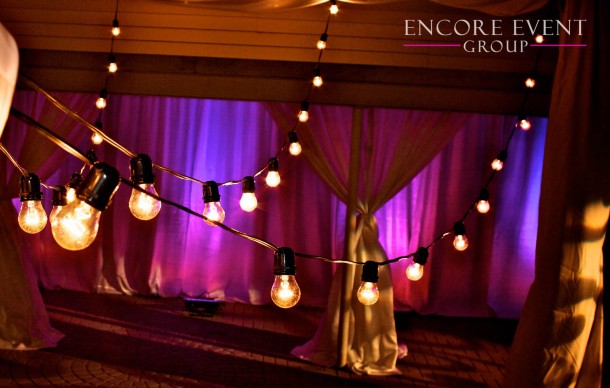 Are you looking for a rustic and old world style? Bistro lighting is what you are looking for. These light strands offer a simple yet elegant look to any venue. With these lights, you can really let your creativity loose when it comes to how they are hanging. Each run of lights can be pulled tight or left to droop. Maybe you'd like the lights to hang over the dance floor to create a "rooftop in New York" feel so your guests can dance under the stars. We can hang bistro lighting in numerous ways; it's all up to you.
As you can tell we offer a variety of lighting and effects. We guarantee that whichever style you decide to go with that you and your guests will be impressed. What we can do with lighting is only limited to your creativity. Those are some of the reasons why lighting is a great idea.
Ready to Get Your Lighting Check Your Date Here