Photo Booth Printer Facts
You've made the decision to get a photo booth for your event and have started contacting companies. You end up talking to several different photo booth vendors and they ask what do you need and tell you what they can do for you. Did they tell you what type of printer they use? Probably not. That's like getting a tattoo and not worrying about the ink the artist uses or buying a car and not caring about the engine. The photo booth's purpose is to create memories that will last for years. If they use the wrong printer, then they might not withstand the test of time.
Shown here are the (2) main printer types used by photo booth rentals in Michigan. One of them is an inkjet printer (IMAGE A), and the other is a dye-sublimation printer (IMAGE B).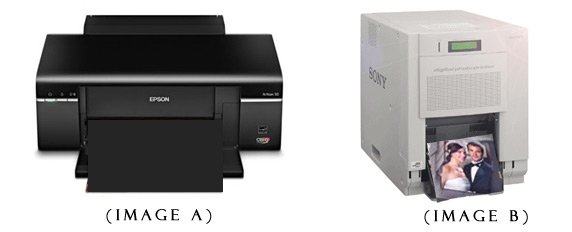 I know that you have heard of the inkjet printer before and probably have one in your home. The reason it sees widespread use in homes is because it is affordable and does exactly what you need it to do. How does an inkjet work? It creates an illusion of an image by placing very small dots together on the paper. There's a large difference in quality when compared to a dye-sublimation printer.
Which Photo Lasts Longer?
Typically, when your guests receive their photos from the booth they put the pictures in their pockets and purses until they get home. With a dye-sublimation printer, your photos are over-coated with a protective layer that helps to prevent the photo from getting damaged. So under normal circumstances you and your guest's photo's will last for many years without losing any quality. These same higher quality photos are also waterproof and fingerprint resistant. Have you seen a photo booth company put your photos in a plastic slide before? This is actually done to protect your pictures because they use inkjet printers. It may seem like a nice gesture, but it's actually a way for them to cover their bases. Even with special inks and paper, an inkjet printer doesn't even come close to these quality standards.
Other companies use photo sleeves to protect their pictures, with our dye sub printers that is not necessary
Printing Speed?
Time is crucial. Your guests don't want to wait around for photos to print. Not only that, you want as many people coming and going through the photo booth as possible. This keeps your guests coming back for more and pictures that keep getting better throughout the event. Dye sublimation printers can fire out a beautiful and high quality photo in less than 6 seconds! Some inkjet printers can take as long as 3 minutes. This is why companies that use inkjet printers say that you can take an unlimited amount of photos during your rental. What they are actually doing is limiting you on time and not materials. Encore, charges about the same as all the other companies, the only difference is that you will get at least 5 times more pictures with our printers.
Some inkjet printers take as long as 3 mins to print strips, our dye sub printers only take 6 seconds
The Verdict?
When it comes to quantity and quality, Encore has got you covered. Every company you consider should tell you whether they use an inkjet or dye sublimation printer. Those that use the inkjet printers will justify their photos with a protective sleeve but this is just a short term patch for a long term problem. Not to mention that the photos look better on their own without the sleeve. As you can tell from the comparison of the printers, the dye sublimation is a definite winner. It's not just our preference, these are the facts. We want to make sure that your photos last, this way you can look at them many years from now and reminisce on your memories.
Want a reliable experience? Check Your Date Here