When it comes to your wedding, you want to make sure everything flows smoothly. The last thing you want to worry is about is the timing of your formalities. The most important part in the success of your reception is to incorporate your style. You need to be confident the wedding DJ you hire is going to do exactly what you want. You probably need help with your wedding reception checklist. What we did was layout below a typical outline for how your wedding might pan out. Use our professional suggestions to help with planning the best event ever!
Before Your Reception
• Pick out songs in the client login you want and don't want played
• Finalize your online event planner with all of your day of information
• One week before your celebration, you'll receive a consultation from the talent working your event
Prior to your arrival (2:00 – 4:00)
• Equipment Setup, make sure we are in the right room
• Arrive at your venue with more than enough time for setup depending on package
• Cover and tape wires in trip hazard zones
• Microphone and battery check (sound quality)
• Go through a dry run of all equipment
• Check pinspots to ensure they are not in your guests eyes
• If you have a name monogram, position it onto your dance floor or above table (unless specified)
• If you have uplighting, position lights individually for optimal color results
• If you have a photo booth, take test pictures to ensure proper function of printer and design
• Get mentally ready to rock your wedding!
Before Your Family Shows Up (5:30 – 6:00)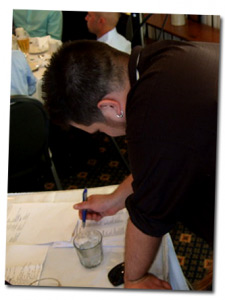 • Ensure proper pronunciation of your bridal party's names
• Take down notes and any questions we may have for you
• Categorize music sets and work in your requests
• Fill out list of your important songs
• Go through your timeline with banquet hall manager
• Check with staff to identify where dimmer switch for house lighting is located
• Figure out your bridal party's seating since we will explain where they will be going
• Ensure that all your songs are working and have backups on standby
Now that all of our setup and preliminary checks are done. This is how we make sure that your wedding is perfect!
Cocktail Hr (6:00 – 6:40)
• Introduce ourselves to your guests while checking sound volume
• Talk to your vendors and establish a timeline with them
• Ask you if you would like your bridal party to stand behind the cake for a nice backdrop
• If there is a prayer find who will be leading it and show them how to use the
• If champagne is served to every table make sure it is poured
• If champagne is served to head table/family tables announce for your guests to get something to toast with
• Double check the serving knife is already at your cake table
• If there are props for your photo booth, wear some and take song requests
Your Grand Entrance (6:40 – 6:48)
• Announce the arrival your bridal party and ask your family and friends to be seated
• Meet you at the lobby door and congratulate you as we introduce ourselves to the bridal party
• Explain where the bridal party will be walking to
• Explain to those doing a toast on how and what to do with the mic
• Remind your bridal party to remain standing until you have taken a seat
• Figure out if there are any last minute questions
• Make any last minute changes (flower girl, parents entrance)
• Start the grand entrance song while announcing with appropriate level of energy
• Explain to your venue staff the procedure for opening and closing the grand entrance doors while your bridal party walks into your room
Toasting Formalities (6:48 – 7:00)
• Talk to those toasting so that they don't go anywhere
• Ensure that your photo/video vendor are ready for the toasts
• Stand next to the head table and encourage guests to congratulate you with a big hand
• Formally introduce everyone toasting individually and thank them after they are done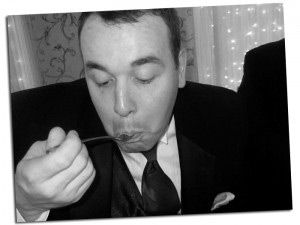 Start Meal (7:00 – 8:00)
• Announce how your dinner will be prepared (, buffet, family-style, hor dourves)
• Begin dinner set list while working in your low tempo dance style music
• Followup with to see how everything is going or if you need any beverages
• Ask if you need the music volume adjusted or if you would need any adjustments to lighting, effects, or City of Lights
Post Meal Mingle (7:45 – 8:15)
• Dim the house lighting to enhance your vibe
• Slowly bring music volume up but not too much
• Approach you and find of if you're ready for the next formality
• If you need more mingling time, then check back with you in 10 minutes
• Remind all your VIPs involved with the formalities that they are starting soon
• Talk to your photo & video vendors so that they know what is happening and when
Time to Cut Your Cake (6:50 or 8:10)
• This can be done immediately following your grand entrance or once your meal is finished
• Ensure that knife is ready by your cake
• Make sure your photo & video vendors are prepared for the cake cutting
• Announce for guests your cake cutting is happening and where it is located
• Remind family and friends while taking pictures to give your vendors enough space
• Cue up your cake cutting song and play at the appropriate volume level
Formal Dances (8:15 – 8:25)
• Ensure that all of your important people are in the room (vendors, bridal party, family)
• Follow up with your photo and video vendors to see if they are ready to begin
• Announce your 1st dance with energy and class
• Announce other song dedications or importance of the song chosen
• If you request others to join, announce them onto your dance floor
Open Dance (8:25 – 11:55)
• The dance floor is now officially open to your guests
• Play music based on clients preference, our goal is to play 99% of your songs
• Take and play guests Pick n Play requests (as long as they are not on your do not play list)
• Interact with guests over the microphone with tasteful announcements
• Ensure music flows together seamlessly based off your selections
Bouquet Toss (10:00 roughly)
• Give your photographer/videographer(s) a heads up and ask their preference for the toss
• Make sure you have all your girls on the dance floor to participate in the toss
• Avoid fixtures, rafters, etc. (hopefully)
• Encourage your family and friends to countdown the bouquet toss
• Find out the catcher's first name, give them a hand, then start the garter toss (if client requests)
• Repeat with all the single guys in the room
Your Grand Finally (11:50 – 12:00)
• Follow up with you before the end and check if you would like to keep the party going
• Ensure that all important people are in the room
• Ask the guests to form a circle around you for an Encore farewell
• Finish off your evening with a goodbye announcement and warmhearted thanks to our guests of honor
Who knew there was so much going on behind the scenes of your reception
Keep in mind that this is just a typical timeline based off of our experience. Yours can be completely different, we just wanted to you to know that we are doing much more than just standing behind the mixer when you reserve your date with our DJs.
Ready to Plan Your Reception? Check Your Date Here.