JW Marriott Grand Rapids Wedding Drapery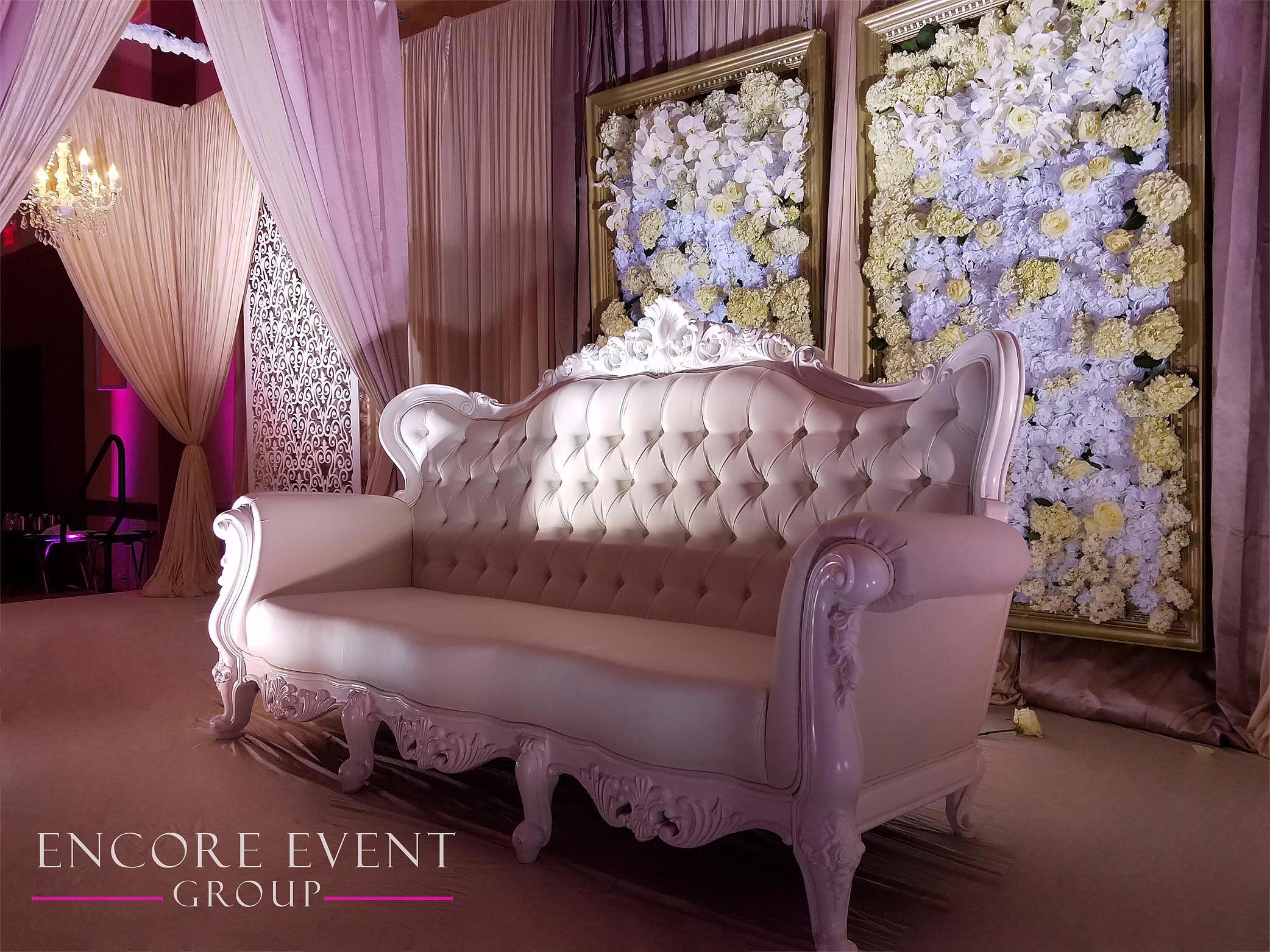 JW Marriott Grand Rapids wedding drapery was used for this reception to create a grand stage. The elements EEG incorporated included multi-colored fabric, custom décor, stage linen, furniture, lighting, & white dance floor.
For the colors, our team used ivory, champagne, and a chocolate brown. The combination of these 3 fabrics gave a dramatic look for the different features of the draping. The stage was broken up into three parts. It had 2 wings on the left and right and the central area for photos.
the gold frame is what brought together the entire look of the stage.
.
The 2 wings featured the custom décor that had suspended chandeliers on dimmers with a customized pattern panel hanging from the back draping. Guests entered from the stage from both sides to pose for pictures with the guests of honor in the center portion. The center part had a larger than life victorian couch with 7×8 gold frames covered in floral.
As you can tell from the photos above, the gold frame is what brought together the entire look of the stage. This was the main focal point for pictures. EEG used (2) frames to make sure the floral coverage would span the length of the victorian white couch. The couch was also pulled from the wall to give space for guests that might pose behind the furniture throughout the evening.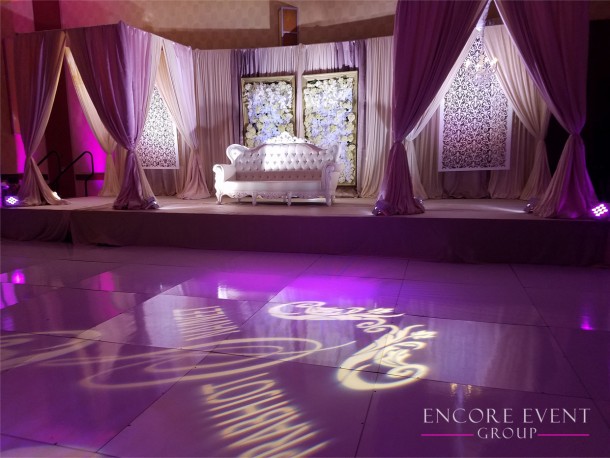 A soft champagne fabric was used to cover the stage flooring so that it blended with the look of the rest of the setup. To highlight the different features of this setup, we aimed natural lighting onto the fabric & décor to really make take this setup over the top. Our staff also used computerized lighting in the rest of the ballroom to give a fully light effect. There was so much lighting in the venue, that our 32×32 white dance floor mimicked the same color and had a soft glow to match the rest of the room.
This example is just one of many designs our team can create for your special event. You can customize many elements in the decor/lighting/drapery to have a unique look. If you are considering building a stage to showcase your photos, then contact our design team by clicking the link below.
Want Drapery?
Check Your Date
Project categories: Custom, Stage Design