MI Company Store Remodeling Drapery for Nike Rebranding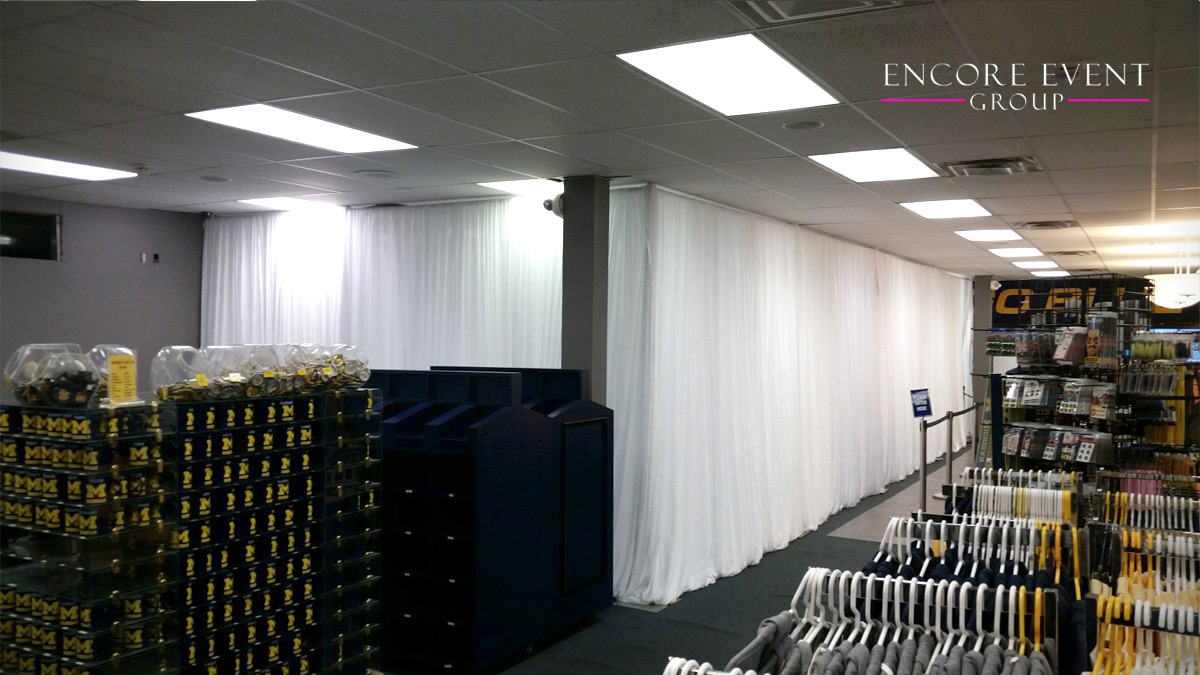 MI company store remodeling drapery rentals can be hard to find if you are a contractor working outside of the state. EEG just wants to reassure your team that we specialize in fast turn around times with drapery for corporate rebranding, product reveals, launches, ribbon cutting ceremonies, and grand openings. For this event Encore draped off (2) sections of the UM Den store located right next to the campus. Nike came in to help renovate the store to launch their new line of gear.
Because the remodel takes over a week, our team anticipated the fabric being setup for an extended period at the site. When it comes to store remodels you need a company that can be flexible with changes to setup/drop off times. There must have been at least several changes the week of to the exact time we were suppose to setup. Having open communication with the demo team gave piece of mind with knowing everything was on track.
There are more than one reason why company stores will hire Encore to setup temporary draping at their location. Draping for store remodels also builds an anticipation of what's to come for your customers. Think of this as mysterious hype of what is behind the curtain. If you ever watched the Wizard of Oz, then you know not to look behind the curtain. Once the curtain is pulled down for the big reveal, customers can see what all the excitement was about.
Rented store draping also gives contractors a safe space to work while the business continues to remain open during normal hours. This same fabric is great for containing debris in spaces. Imagine a dusty environment being isolated from the main portion of the store. This can increase revenue, minimize down time, and reduce cleaning costs.
Besides offering the white wall draping rental, you can choose from over another dozen colors. We like to offer our clients the option to use one of (15) colors in inventory. Match your company colors with our wall drapes and personalize your corporate renovations. For your convenience we carry over 15,000 feet of fabric in stock. So no matter how big or small your project is we will make sure we have you covered, literally.
Want Drapery?
Check Your Date
Project categories: Before After, Straight