Indian weddings at the Henry in Dearborn Michigan can be decorated many ways. When it comes to your reception the first consideration is to reserve the right banquet hall in Dearborn. If you ceremony is at the same location then you need to make sure you have the correct amenities in place. One of the things known about indian receptions is the amount of time put into your decorations. So besides talking about decorative elements the company you hire should be able to accommodate other bundled services. So let's take a closer look at this venue to find out why it might be a good choice for your Indian reception.
Banquet Halls in Dearborn
There are many banquet facilities in Dearborn. Because the city is culturally diverse, most venues will offer spaces large enough for guest counts in excess of 500 people. One reason why The Henry is a popular choice for Indian weddings is because this facility allows for outside catering companies. Some banquet halls won't allow you to bring in any outside vendors. When it comes to Indian food, you need a company that can bring an authentic taste. Another reason why this place is a great choice is because they can host events with over 700 guest. Cultural events should consider reserving a location that can jointly act as an hotel for out of state/country guests. Continue reading to see what other factors you need to keep in mind.
Ceremony & Receptions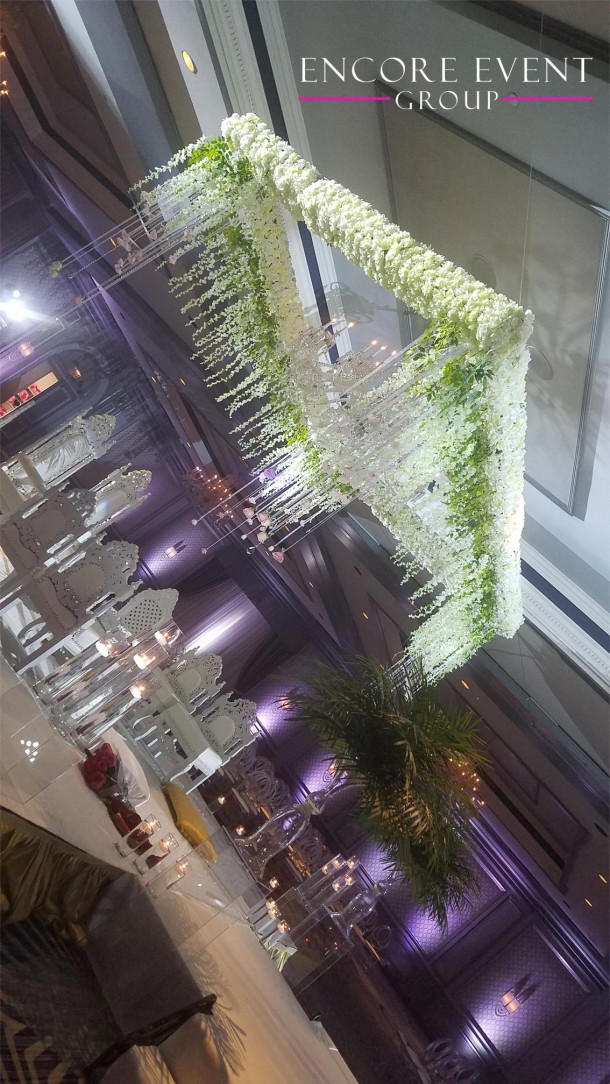 Sometimes you might have your ceremony in a smaller more intimate space. Larger receptions require larger spaces for the ceremony. If your ceremony is at the same location as your reception, then you need to be mindful of the who, what, where, and when for the room flip. This venue is great because of how you can multi-purpose your rooms. In the photo on the side you will notice how the grand ballroom was decorated by Utsav Planners. Their team created a gorgeous runway leading up to an event more beautifully decorated floating mandap. So to answer the important questions to figure out for this was who will be setting this up, what needs to happen to have this setup done, & where is this setup. EEG became involved with the setup by providing sound reinforcement for the ceremony and lighting design that helped accent the hanging structure.
you need to be mindful of the who, what, where, and when for the room flip
Indian Weddings Decorations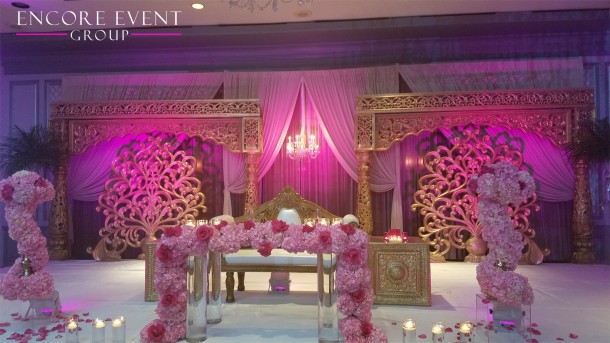 Indian weddings are known for extravagant decorations. One of the things EEG likes to think of how can we make those elements 'pop'. Besides ceremony structures, you might consider having a stage created with traditional decor. What we love about stages is how some well though lighting can impact your design. For example in the photo on the right we used a handful of uplights in static color to light up the backdrop pieces.
Bundled Services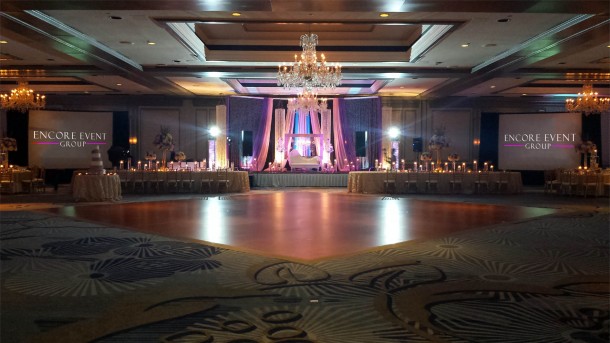 To help with the planning of your Indian reception, Encore offers multiple services that you can bundle. We have bharat entertainment packages, dhol players, live mixing disc jockeys, & energetic emcees. You can also choose from step and repeats, video projectors, image projections, drapery, staging, flooring, furniture, chandeliers, and LED robots. We recommend an in person consultation to determine exactly what we can do to help make your event over the top.
Final Thoughts
Over the years, our staff has hosted many successful events at The Henry. They are a popular choice for Indian weddings for many reasons. Because we are experienced with this venue, our team knows exactly what you need to make sure your night is stressfree. To help give you the ultimate experience you can bundle many services. At the end of the night you can look back at the week long activity of events and think of all the great memories you family and friends will share. Let Encore leave a lasting impact on your guests. Get started by checking your date below.
Reserve Your Lighting Design Check Your Date Here