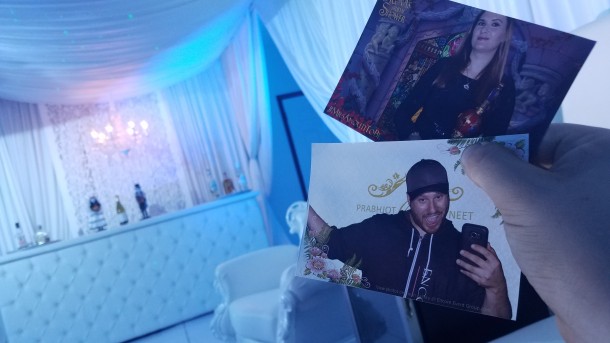 Michigan Step Repeat Rentals are a great way to add an interactive activity at your wedding. When you add this to your package, it will make your event more memorable. One of the best features for a Step and Repeat backdrop is having the opportunity to personalize your party. You are given a cost effective for guests to have fun! Best part about the backdrop is being able to take it home at the end.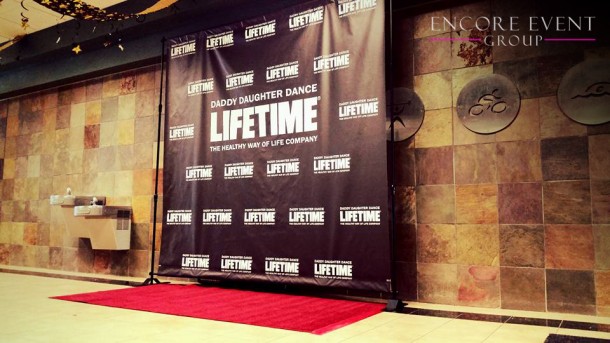 Just like the points mentioned above, a step and repeat forces guests to interact with each other and your event. Guests will line up to take pictures in groups of people. What our team loves about these backdrops is setting up in a common area and watching the magic happen. If you would like to add value to your guest experience, then incorporate a #hashtag into your design. This will tell guests right off the bat what to tag pictures in when uploading to social media websites.
our step and repeats feature a red carpet treatment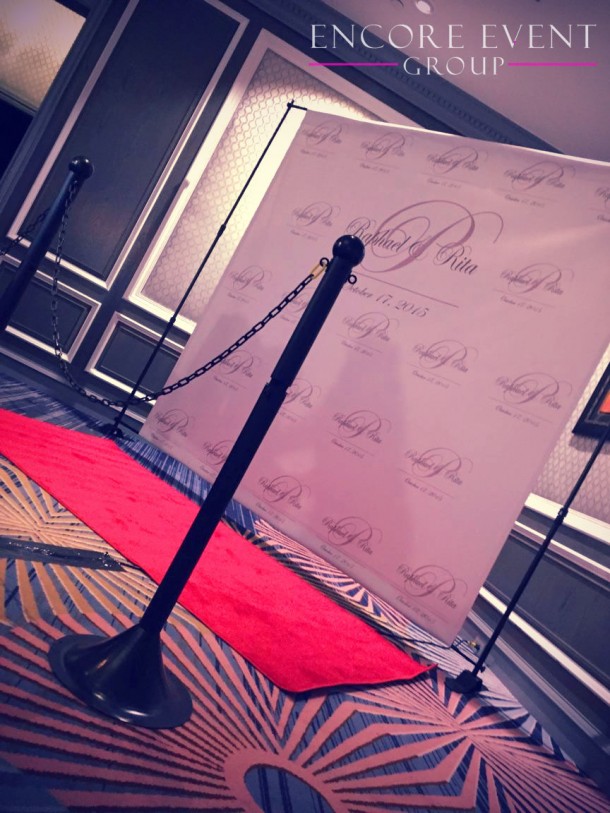 Besides being able to use #hashtags you can also personalize your banner with the design and message. EEG has used step & repeats from everything from birthday parties, corporate events, to wedding receptions. At weddings you can create a monogram for the bride and grooms name in the colors of the reception. Company parties will rent a step/repeat to help bring awareness to their brand. Whether it is a product launch, team building exercise, or public appearance, your message will resonate with guests.
A personalized backdrop in a fun environment is both memorable and exciting. The main purpose of any event is to create an inviting atmosphere for guests to enjoy themselves. For example, our step and repeats feature a red carpet treatment. This creates an anticipation for the night for your guests. Since most events don't have a red carpet it is truly a nice touch that will leave your guests talking.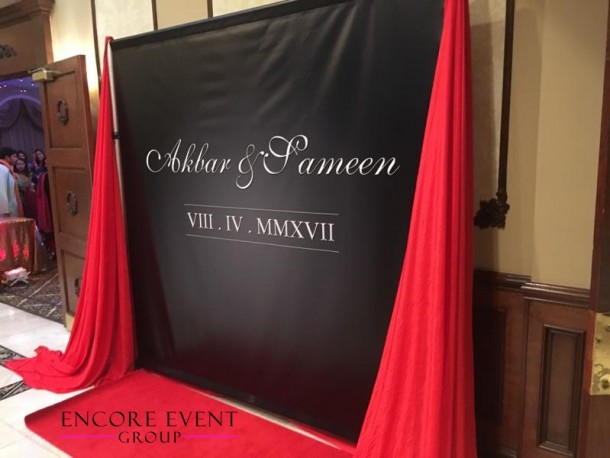 Besides the quality of your backdrop, the look and design of your experience is just as important. EEG uses high-quality equipment that will blend in will with the look and feel of your event.
Our setup is arranged in a way to produce high volume photos. This way there are no long lines. This ensures you get your moneys worth because you will more photos. The open design works well in hallways and foyers.
As you can tell in the photos above guests enjoy the step and repeat photo booth. You will notice that one of the photos has a green background. This is used as a greenscreen booth. This option is also available to you so that you can personalize your photos AND video. Image being on a beach in venice or having a video play behind you as you ski down a hill. The possibilities are endless. Visit our green screen video gallery for a small preview of what we have done at past events. You can also watch a video example to see just how the green screen video booth works.
offering the step and repeat reinforces a DIY (do it yourself) attitude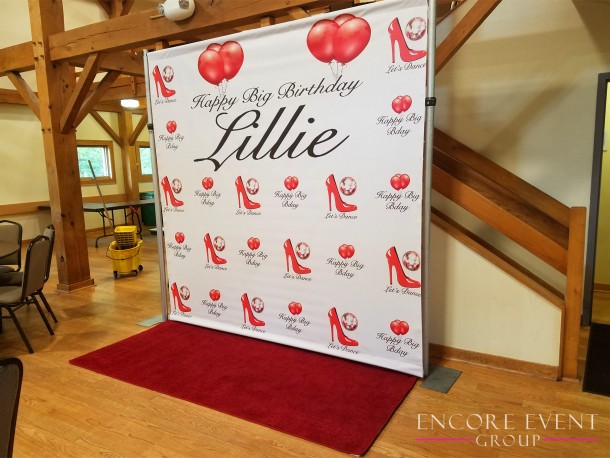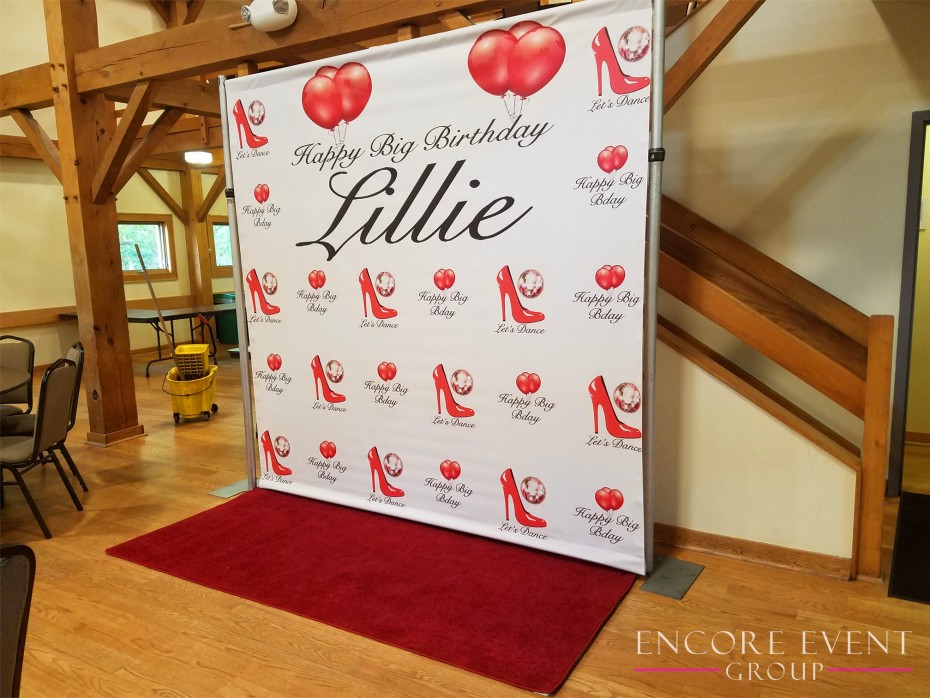 Encore rents step and repeat backdrops with and without a photo booth. By bundling the two together you have a streamlined option that will capture the memories. If you are working on a budget then we can offer you the backdrop by itself. Instead we recommend you encourage your photographer or videographer to take pics of guests with the backdrop. By offering the step and repeat it also reinforces a DIY (do it yourself) attitude. You can expect hundreds of guests to take selfies on their personal cell phones and upload their images after tagging you in them!
So what happens at the end of the event when you are done with the step and repeat? We give you the backdrop so you can do whatever you want with it. By keeping your backdrop simple in design it will make it easier to repurpose it after your event. Let's say you are planning a wedding reception and decide to leave your wedding date off the poster. A year after your big day, you can take out the backdrop and put it up at your house party. So if you need to rent a step and repeat in Michigan then please let us know. The possibilities are literally endless.
Facebook Video Example of Step Repeat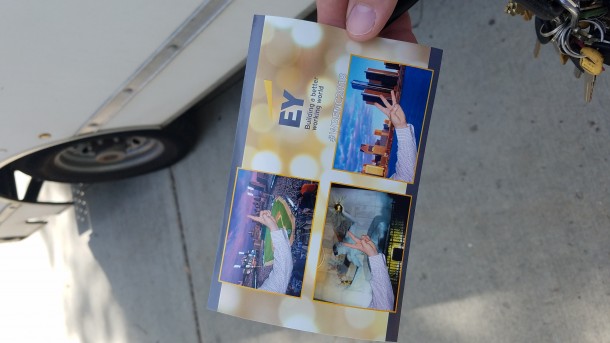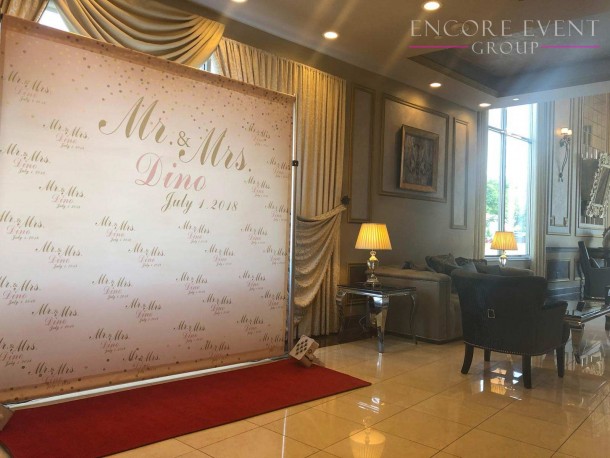 For More Info Check Your Date Here